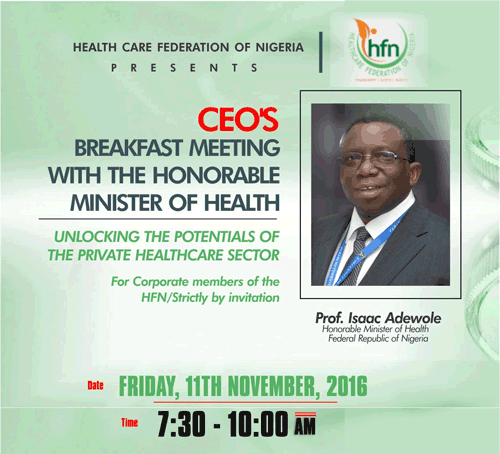 On Friday the 11th of November 2016 the Healthcare Federation of Nigeria (HFN) will be hosting a CEO Breakfast Meeting with the Honorable Minister of Health, Professor Isaac Adewole.
As part of its advocacy role, HFN has had a long standing tradition of creating a consultative interface between private sector practitioners and public policy officials. The aim of which has been to proactively promote Public-Private Partnerships, promote incentives for private healthcare investments and ultimately create an enabling operating environment for healthcare businesses in Nigeria. Such ambitions can however only be realized by creating consistent channels of interaction between representatives of the private health sector and public policy representatives.
The CEO Breakfast Meeting with the Honorable Minister of Health, Professor Isaac Adewole which is strictly by invitation and open only to corporate members of the HFN, presents a unique opportunity for stakeholders within the private healthcare sector to discuss healthcare priorities, and provide relevant input into the policy direction and Health agenda of the Federal Government.
The meeting will be an interactive forum which will include discussions on promoting investment incentives for the private healthcare, Health Insurance, Healthcare Financing, Private Public Partnerships (PPP's), the implementation of the National Health Act (NHA), among other pertinent issues.
It will also provide an opportunity for attendees to gain broader perspectives on the current Health agenda set by the Federal Ministry of Health and Government as well as the role of the private sector in its actualization.
Details of the Breakfast meeting are as follows
Date: Friday 11th of November 2016.
Time: 7:30am to 10:00am
For further information please email: This email address is being protected from spambots. You need JavaScript enabled to view it. or call Ms. Lutie Ojo on 08037192830