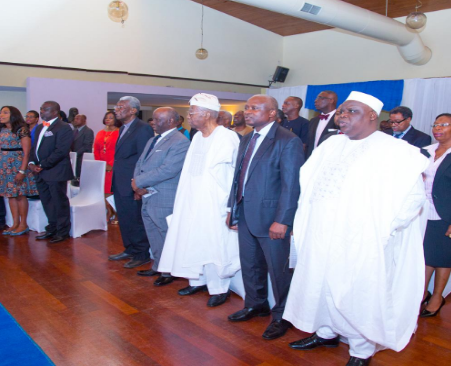 For the last 25 years, ADCEM Pharmaceuticals Limited, have provided turn-key health services, from a social impact perspective. Their aim has been to ensure the availability and affordability of quality healthcare for all, especially those at the bottom of the pyramid and have partnered with various corporate organizations and Non-Governmental Organization (NGOs) to support public health institution with infrastructure and human resource development.
To commemorate its well documented and laudable strides within the health sector, ADCEM Pharmaceuticals, held a symposium focused on Social Enterprise in the Health Sector. The symposium aimed at elevating awareness among individuals in the health and non-health sectors on public health challenges, particularly as it affects those at the bottom of the pyramid.
Present at the symposium, were multi-sector health care services providers, long-standing members of the business community, the media, representatives of international development agencies, the academia, and several young entrepreneurs.
The symposium kicked off with opening remarks by the Chairman of the event, Chief O.I Akinkugbe (CFR, CON) and the unveiling of the new logo for Adcem Pharmaceuticals. The symposium featured high level remarks and depth of insight into pertinent issues in the Nigerian health-sector. Below is a summary of the high profile speeches and recommendations by noted speakers
Dr Jide Idris- Lagos State Commissioner for Health: The Lagos State Commissioner for Health, Dr Jide Idris, during his remarks emphasised the inability of government alone to adequately finance Nigeria's health-care while ensuring optimal service delivery and therefore called on social entrepreneurs to support the government.
Professor (Sir) Chris Ogbechie- Chairman, Diamond Bank PLC and Centre Director, First Bank of Nigeria Sustainability Centre, Lagos Business School
The first keynote address delivered by Professor (Sir) Chris Ogbechie discussed the provision of innovative solutions to societal problems through investor participation. He cited two examples of successful social enterprise initiatives in the healthcare sector:
Eye Foundation Hospital founded by Dr Kunle Hassan. The facility provides state of the art eye care at very low costs. He noted that the hospital has more ophthalmologists than any state government in Nigeria.

Mobicare, with speciality in Maternal and Child care. The enterprise was founded by two Nigerian doctors.
While identifying access to funds, scalability of concepts and social values as key issues, he affirmed the significant importance and role of social enterprise in health-care. This, according to Professor Ogbechie, remains the surest way to guarantee affordable quality healthcare for Nigeria, building scale and ameliorating gaps in public sector provisions.
Ms. Nonny Ugboma – Executive Secretary, MTN Nigeria Foundation
In the second keynote address, Ms Nonny Ugboma drawing from her experience as the Executive Secretary of the MTN Foundation commended the partnership between the Foundation and Adcem. She acknowledged that as a result of this and other collaborations, a sizeable number of Nigerians now have access to healthcare amenities that would otherwise have been out of their reach.
Key requirements for a successful social enterprise adopted by the MTN Foundation include:
Gap Identification and need definition Partnership definition and partnership identification; Effective execution, management and performance monitoring; Affordable pricing; Risk identification and sustainability.
According to Ms Ugboma, the foundation has largely recorded huge success. However, this success is not devoid of challenges, notably the difficulty in overcoming government bureaucracy. Notwithstanding, she urged private institutions and well meaning Nigerians to take up social enterprise as a means of giving back to the society.
Panel Discussions
Following the high level key note address, Panel discussants representing various sectors of healthcare, as well as enterprise development took to the stage. The session was moderated by Dr. Orode Doherty ​– ​ Paediatrician and Country Director, Africare Nigeria.
The panel discussion reflected ideas from various viewpoints. Highlights from their contributions are as follows
With a backdrop of the need to increase healthcare coverage scale, the importance for the National Healthcare Insurance scheme to cover a broader range of illnesses, including terminal diseases, was emphasised. Specifically, it was noted that a savings culture of N30.00 a day for healthcare insurance and N10.00 a day for medical check-up can guarantee an individual's annual medical check-up and health insurance. With 50% of Nigerians under health insurance, the problem of funding will be greatly reduced.
"One out of five Nigerians has some form of kidney failure. Every year, 17,000 of these patients require dialysis and only 2,000 are currently getting dialysis, leaving 15,000 to die due to the paucity of access and affordability of treatment". - Dr. Ebun Bamgboye (Consultant Nephrologist and Clinical Director, St. Nicholas Hospital)
"There is a pressing need to address the healthcare needs of people in rural communities, in terms of affordable drugs. Entrepreneurs can provide and supply these drugs to the communities".- Dr Lolu Ojo (Chairman, National Drug Distribution Committee, Pharmaceutical Society of Nigeria and a provider of quality and affordable drugs)
"The very heart of social enterprise is solving problems"-Mr Peter Bamkole (Director, Enterprise Development Centre, Pan Atlantic University)
"If you have 50% of Nigerians insured, the problem of funding will be greatly reduced"- Mr Tosin Awosika (Managing Director and CEO, Healthcare International Nigeria)
"Social enterprise can be deployed by providing affordable basic screening for diabetes mellitus, hypertension, hepatitis B etc". - Dr Pamela Ajayi (Managing Director, Pathcare Laboratories and Host, Doctors on Air)
From the discussion, all discussants agreed to the need for increased participation by all to improve the access of people at the bottom of the pyramid to quality and affordable healthcare.
Following the panel discussion was an interactive session that enabled the audience to participate in the conversation. Other key points highlighted for success in social enterprise border on mindset reorientation, disease prevention rather than cure, positive engagement with the public, increased funding for the sector through various collaborations and more.
Ms. Niniola Soleye, the Managing Director of Dr Ameyo Stella Adadevoh Health Trust (DRASA) proposed social enterprise in Public health awareness campaign and the education and training of healthcare professionals.
In his Closing Remarks, the President of Pharmaceutical Society of Nigeria (PSN) Alhaji Yakassai lauded the vision of Adcem Pharmaceuticals and her commitment towards developing the health sector. He further commended the decision of the company to diversify into the local production of Parenteral Pharmaceuticals, making high quality and affordable medicines that will be available to low income earners and the vulnerable in the society. He reiterated PSN's full commitment to supporting Adcem Pharmaceuticals in the local production of medicines.