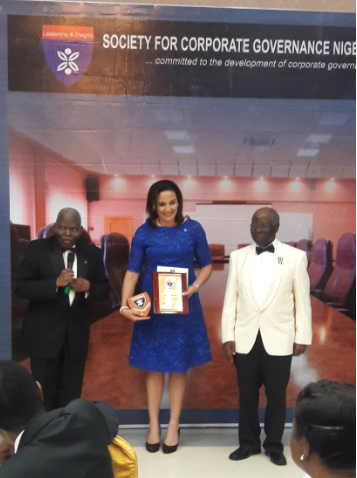 The society for Corporate Governance Nigeria is the foremost Institution committed to the development and promotion of corporate governance best practices in Nigeria. It aims to be the recognized reference point both nationally and internationally in matters relating to corporate governance and provide a template for formulation and enforcement of corporate governance standards for Nigeria and other emerging economies, using the tools of rankings, seminars, workshops and trainings.
At its annual president's dinner in 2016, which held at the Skye Terrace Hall of the Oriental Hotel in Victoria Island Lagos, the society inducted our very own president Mrs. Clare Omatseye, founder and Managing Director of the International Award winning Company JNC International Nigeria Ltd, was inducted as a fellow of the prestigious body. Other inductees include former Managing Director of Red Star Express Plc and Skyway Aviation Handling Company Limited (SAHCOL), Mr Isaac Orolugbagbe, Former Deputy Governor of Central Bank of Nigeria, Mr Odozi Victor, pioneer Vice–Chancellor of Pan -African University, Prof Albert Alos and former Nigerian minister of finance, Shamsudeen Usman.
President of the Society and former Managing Director of Nestle Nigeria plc, Mr. Olusegun Osunkeye, noted that the new inductees, were distinguished Nigerians, whose characters were found to be in tandem with the objective of the society. He also noted that integrity of character and accountable leadership continue to form the pillar of the Society that was established 11 years ago.