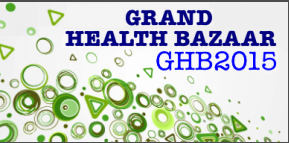 LiveWell Initiative LWI, a public health NGO, is a registered health-promotion focused organisation, which empowers the people through health literacy announces it's 5th Annual Cross-cutting Multi-sectoral International Healthcare Event, the Grand Health Bazaar GHB2015, a corporate carnival for trade, commerce and mutual synergy and networking with healthcare as a value addition. Visit Live Well Initiative Website to book your stand and register to be a part.
The main theme for GHB2015 is 'Social Investment as a Corporate Sustainability Tool in Emerging Economies'
The sub-themes are:
Day 1: July 1st: Clean Emission and Environment Day: 'Renewable Energy as the Key for Environmental Sustainability and Poverty Reduction'
Day 2: July 2nd: Education and Innovation Day: 'Learning, Relearning and Unlearning as the Key Tools for True Re-Emergence of the World Economy'.
Day 3: July 3rd: Fast Moving Consumer Goods FMCG Day: 'Consumerism as a Growth Determinant in Emerging World Economies'
Since inception in 2007, LiveWell Initiative LWI (RC:692490), a self-sustaining not-for-profit health-promotion and empowerment organisation with a national orientation and an international outlook has empowered over 1.5 million Nigerians and 3,000 Ghanaians directly and indirectly by proxy contact, inclusive of over 60 blind and disabled adults through health literacy.
Venue: HAVILAH Centre, via Sheraton Four Points, Ligali Extension, Victoria Island, Lagos – Nigeria.
Dates: July 1st – 3rd 2015
Time: 09:00am – 5:00pm daily
For Whom:
Oil and Gas Industry
Power and Energy Industry
Educational Sector
Power Sector
Fast Moving Consumer Goods Industry
Food and Beverage Industry
Secondary Schools and Universities
Agricultural Industry
HMO's, Health Insurance Companies, Insurance Brokers
Pharmaceutical Industry, Medical Equipment Industry
Telecommunications Industry
Banking Industry
Aviation Industry
Property/Real Estate Industry
Consulate Offices, Intergovernmental Organisations,
Hospitals, Clinics, Pharmacies, Laboratories, Diagnostic Centres
Government and Quasi-government Organisations
Foundations, High Net-worth Individuals, Technocrats, Entrepreneurs and Philanthropists
Women Associations
Specialists in various aspects of Healthcare
The General Public
At least 100 companies/organisations and 3,000 delegates are expected at the GHB2015 US Consulate-Partnered innovative multi-sectoral international healthcare exposition; the first of its kind in this part of the world, and the fourth in the GHB series after 4 previous successful events.
Please read our GHB2011, GHB2012, GHB2013 and GHB2014 reports.
This is a great opportunity for:
Collaboration-Building and Networking
Participating in high level discussions at the 3-day plenary
Business to Business and Direct to Customer Marketing
Inter-Sectoral and Multi-Sectoral Marketing
Sales! Sales!! Sales!!!
FREE Certificates of Attendance for all attendees at the 3-day Plenaries
FREE Health Screening and FREE Medicines at the adjoining Health Fair.